It was a busy and productive weekend for the boys at the Regional meet this past weekend.  Here's a recap of some of the achievements the boys had.
Level 6:  Caleb Olson places 4th on Pommel Horse and 5th on High Bar.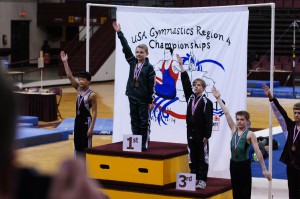 Level 7:  Jordan Berezowitz wins the Region 4 title for Pommel Horse champion.  His teammate, Charlie Jerry placed 4th on the same event.
Level 8:  Sam Metzler places 1st on Pommel Horse in his age division with a 2nd place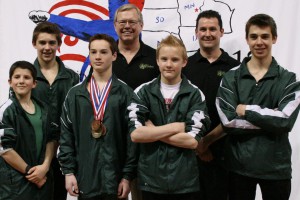 finish on vault.  Oliver Ouradnik placed 1st on High Bar, 2nd on Floor, 4th on Parallel Bars and 3rd place for All-Around score!  Lou Diner placed 1st on Pommel Horse in his age group, 3rd on Floor, 3rd on Parallel Bars and 4th place for All-Around!  As a team, they placed 3rd in the region!  Way to go guys
Level 10:  Zach Liebler places 1st on Floor and High Bar with a 2nd place finish on Rings, Vault, Parallel Bars and All-Around score.  He also qualified for the JO National Championships next month in Oregon and is part of the Region 4 Men's team.  William Brower placed 5th on Parallel Bars and 6th place All-Around which landed him a spot on the Region 4 Men's Team also.  William also qualified for JO Nationals!  As a team, the level 10's placed 2nd in the Region!  Awesome job everyone!
Related posts